Offset Printing Services for Metro Vancouver
For quality color printing in Burnaby look no further than Impressions In Print.
Impressions In Print has multicolour offset presses an so can choose the best press suited for your specific project.  Both presses employ colour scanning technologies allowing us to more accurately and quickly monitor color during press runs.
---
High Speeds For Longer Print Runs
With speeds of up to 15,000 sheets per hour, longer print runs are printed on our 4 colour+coater offset printing press.  Our inline aqueous coater also allows for different print finishes including gloss or mattes.  These coatings allow for an enhanced finish on your product while providing extra protection.
This press is also great for printing thicker papers up to 24pt. Such papers are typically used for packing items, garment tags, boxes, etc.
4 Colour + Aqueous Coater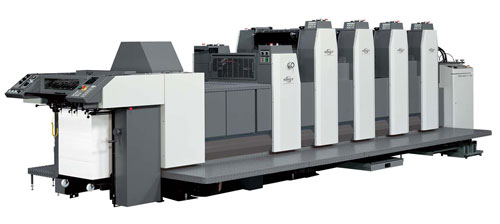 ---
Amazing Print Quality for Shorter Runs
Impressions In Print's waterless offset printing press provides outstanding print quality and economical short run offset printing.  This press is also capable of printing on papers up to 24pt making short run packaging affordable.  By utilizing waterless printing and direct plate imaging technology, print quality is outstanding allowing for extremely fine detail and sharp looking images.
Presstek Waterless Press